KPI Dashboards
and Reports
On-Time Delivery Performance and Quality KPI's
At CyFrame we believe that improving customer retention and providing an optimal level of customer service s results from the delivery of high-quality products on-time and on budget. Focusing on key simple KPI metrics is sound business practice. Unlike other solution providers, we offer simple yet valuable metrics that are not overwhelming and unmanageable for plastics processors. Providing easy access to KPI's as well as the key supporting reports results in effective and successful management activities.
Late deliveries, daily executive dashboard current month and year over year results
On-Time delivery historical reports and graphics of delivery performance by customers and suppliers
Production schedule 1080HD dashboard with current late deliveries
Work Order Planning dashboard with live production progress and planned shipment reports
Machine Dashboard work order with real-time production results
Live daily dashboard rejects and downtime current month and year over year results
Live production line reject(s) report by work order by line operators by defect codes
Downtime report by downtime code
Drill-Down Scrap report by work center, shift and machine by product
Daily production profitability with QA by machine groups
Production efficiency report with confirmed PLC reject rates
The Daily Profit Contribution Target
The Daily Production Profitability report is probably the most important report in our MES suite. The main focus of that report is "did I generate a positive company cash flow from the good parts I produced today?". Based on the simplest method, CyFrame makes it transparent to the production MES process and requires the least amount of time to setup and maintain. With a great level of accuracy, it determines if the production by shift produced the desired daily profit target results.
Real-Time Machine Performance Dashboard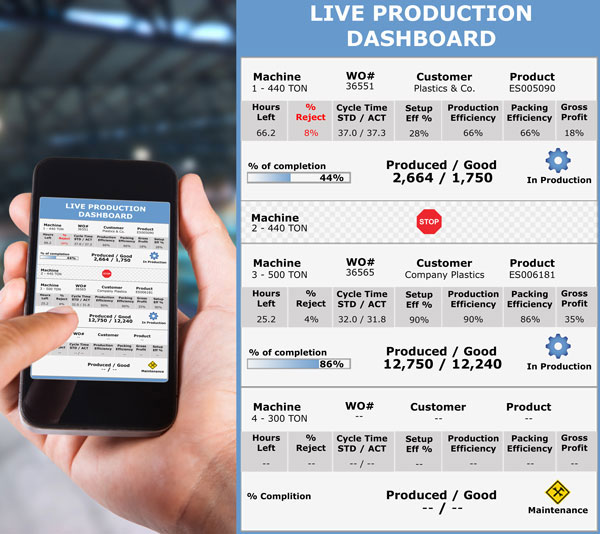 Access your machine, production performance and profitability in real-time, across all plants and work centers and eliminate uncertainty and late conflicting reporting, period.

Our mobile phone optimized live machine dashboard ensures your plant manager has up to the minute, total visibility of his shop floor. Track and monitor machine setup performance, live machine status (In-Setup, In Production, Downtime, Maintenance), standard to actual machine efficiency, rejects, percentage of job competition and line profitability with ease.
Production Profitability to Production Efficiency Drill-Down Report
The CyFrame MES production efficiency report is the key element to clearly identify and analyze the activities from n the production shop floor. It reports on the production speed efficiency, downtimes, actual part count versus the estimated good parts that should have been produced, the actual yield considering rejects and finally the amount of raw material it took versus what was planned from the detailed production entries made on each work order. A work order cost summary report is then produced from that data to compare the actual to the estimated cost which sequentially is compiled in the Production Profitability Summary report by Customer and Products from which all the drill-down reports can be accessed for a full analysis.
Actual speed efficiency for setups, production, downtimes and other activities against standards
Actual raw material usage efficiency against standards
Actual production yield deducting rejects
Downtime and rejects reasons and costs
Actual cost of good parts produced against standards
Reconciles the summary actual costs in detail against the work order standard cost
Is automatically built based on all the production detail entries made on the shop floor
The cost summary is completed when the work order is closed from production.
Each product overall profitability produced for a customer or made to stock for many customers against standard and actual costs dills down to cost summary and production efficiency of each work orders
Used to determine actual production cost for each accounting period against standard cost classes
Allow the actual material cost to be determined at standard cost or different cost evaluation methods such as average cost and others
Important Related Resources